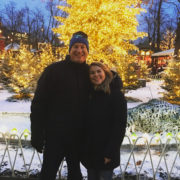 Over Thanksgiving break 2017, I was fortunate to be in Denmark to visit my daughter Emma. A college junior, Emma is studying in Copenhagen for the semester.
Emma is an education major at Denison University in Ohio and she is studying education overseas. Not only is she learning about the Danish way of educating children, she has traveled to Helsinki, Finland as well as Norway and Sweden in order to gain a bigger picture of education across Scandinavia.
As her father, and someone who has been passionate about learning and education since before she was born, I am quite envious. I want to know more!
I am grateful for the few days I had seeing the sites of the Danish capital with my daughter as tour guide, but I would love to have the hands-on opportunity to learn about Scandinavian schools for a few months.
There have been a number of articles in the American press in recent years extolling the virtues of education in Finland, Denmark and other countries. Their kids consistently rank at the top of the international test scores and their people are always at the top of the happiness charts.
In American Kindergartens, in recent years, particularly in public education, there have been huge shifts towards a heightened focus on academics, especially literacy. Most American schools are teaching hard skills earlier and in a more structured way than ever before, and often before children are developmentally ready. And while time spent on literacy in American Kindergarten classrooms has gone up, time spent on arts, music, and child-selected activities (like choice time) has significantly dropped.
In Finland, kids start school at age 6 and Finland's Kindergartners spend a sizable chunk of each day playing.
When children play, they are developing their language, math, and social-interaction skills. Play benefits cognitive, social, emotional, and physical development. When play is fun and child-directed, children are motivated to engage in opportunities to learn.
In Denmark, the intentional teaching of empathy is considered as important as teaching math and literacy, and it is woven into the school's curriculum from pre-school through high school.
The Danes' highly developed sense of empathy is one of the main reasons that Denmark is consistently voted one of the happiest countries in the world (this year it is once again number one). Empathy plays a key role in improving our social connections, which is a major factor in our overall happiness.
Teaching empathy has not only been proven to make kids more emotionally and socially competent and greatly reduce bullying, it can also help them be more successful and high-functioning adults in the future.
In all Scandinavian countries, the concept of joy is woven into the school day. Early-childhood education programs place a heavy emphasis on joy, which along with play is explicitly written into curriculum as a learning concept. There is an old Finnish saying: "Those things you learn without joy you will forget easily."
Choice. Empathy. Play. Joy.
The Scandinavians have figured out the recipe for success. At my school in America, we focus on these concepts every day too.