One of my favorite places in the whole world is Denver's Tattered Cover bookstore. Over winter break, two of my heroes have performed readings there.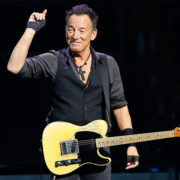 One was my good friend Jamie Horton, a long-time actor with the Denver Center Theatre Company, who is now an associate professor of theatre at Dartmouth College. Jamie is in town playing the role of George Bailey in a local production of It's a Wonderful Life. Almost every year, for the last eighteen years, Jamie has presented the annual Holiday Reading at the Tattered Cover. It's a firm favorite in the Denver holiday calendar.
My other hero who stopped by the bookstore is a brand new author who just published his first book. However, you might know him for his rock and roll: Bruce Springsteen. The Boss was in the same event space a few days earlier reading from his new autobiography, Born To Run.
I have learned a lot from these two men over the years: one I've never met, one I meet for breakfast every time he's in town.
Springsteen gave me the soundtrack of my high school and college years. He gave me lyrics that taught me the rhythms of my adopted country. He suffuses his songs with an understanding that life's a tough road to travel, but hope is real, and redemption is available for everybody. I listen to his music regularly on my commute to Friends' School.
Horton gave me my first glance behind the scenes of professional theatre. In the few short comedy skits that we performed on stage together, he gave me confidence in my ability as an actor and a director that inspired me to found a children's theatre program. I have now directed hundreds of children over the years in over forty full-scale productions – and I know that theatre will always play an important role in my life.
At the Tattered Cover on Monday night, Jamie read a couple of children's favorites: The Grinch Who Stole Christmas and The Polar Express. He read a story by Pearl S. Buck and poems by Maya Angelou and Howard Thurman. There was one poem in particular that truly caught my ear.
This poem, The Shortest Day, by English author Susan Cooper, is a moving commentary on the winter solstice. It reminded me of why, at my school, we honor the cycles of the seasons through our rituals and celebrations.
The Shortest Day
by Susan Cooper
And so the Shortest Day came and the year died
And everywhere down the centuries of the snow-white world
Came people singing, dancing,
To drive the dark away.
They lighted candles in the winter trees;
They hung their homes with evergreen;
They burned beseeching fires all night long
To keep the year alive.
And when the new year's sunshine blazed awake
They shouted, revelling.
Through all the frosty ages you can hear them
Echoing behind us – listen!
All the long echoes, sing the same delight,
This Shortest Day,
As promise wakens in the sleeping land:
They carol, feast, give thanks,
And dearly love their friends,
And hope for peace.
And now so do we, here, now,
This year and every year.
Developing personal spirituality is a lifelong journey and a natural aspect of childhood. I have always encouraged children to have open hearts and minds as they grow, explore, and share traditions, developing self-awareness and understanding of themselves as part of the bigger world.
As we gather with family and friends during these short days and long nights, I wish for you and your family that you:
dearly love your friends,
and hope for peace.
here, now,
this year and every year.
Wherever, whatever, and with whomever you are celebrating at this time of year, may you enjoy!