As a head of school, it is not everyday that I receive a note like this from one of my te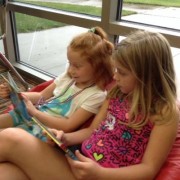 achers: "This is my passion, and the reason I am teaching. I am glad it is helping so many families understand what we do at this school. I truly believe this is the best place a parent can find to support their child in developing a strong social and emotional foundation."

For 2nd grade teacher Caroline Long, teaching is indeed her passion (well, teaching, dogs, and skiing!) I recall her saying at her interview how excited she was at the prospect of teaching 2nd grade, because her own 2nd grade teacher had "changed my life".
Caroline wrote me that note after I had asked her if I could share a simple email that she had written to parents in her class.
In response to the email, a long-time parent wrote to me: " I swear, this email that Caroline just sent is the most information I've ever heard about what is happening on a day-to-day basis at school re the social/emotional inner workings/teachings!! And it is hugely reassuring, and I am incredibly grateful that she took the time to write it. I honestly have never seen everything laid out so explicitly.
Everything she's doing makes a lot of sense, and I agree with it both philosophically and pragmatically.  And I can see how for an outside person wouldn't make as much sense, given that Caroline is holding the whole context and using events of the day to create learning opportunities.
Perhaps it boils down to that crucial piece of how to communicate what is actually happening in its fullness and entirety — on top of one's full teaching load!!"
As a head of school and a writer, I share my thoughts about my school's social and emotional learning frequently.This is a portion of her note to parents:
"I have had many questions recently about our social and emotional curriculum, BrainWise. It is a supplement to the work I am already doing with your children. BrainWise focuses on the individual child. The focus of this curriculum is on critical thinking and decision making skills. Here is a link to this curriculum if you would like to read more: http://www.brainwise-plc.org.
The second component of our social/emotional curriculum focuses on knowing yourself, your impact on others, and communicating with friends.  These skills are incorporated into our daily schedule in many different ways. I tell stories and lead meetings based around conflict that the whole class can relate to (ie- feeling left out, talking behind each other's backs, etc.). Interweaving social emotional curriculum into our daily schedule is the most effective way to capitalize on "teachable moments" that occur naturally in the children's day.  As research has shown, and I see first hand, the most important thing we can do as adults is support children after conflict arises. The truth is that conflict will happen everyday, in someway, for each child. Providing them with the tools to cope with this conflict and giving them the skills to become more and more independent are the best gifts we can give them. Some broader skills we work on are:
 Cooling off when upset-taking a minute but returning to the conversation

 Speaking directly to each other in a respectful tone

 Speaking honestly and kindly with a goal of solving the problem

 Listening carefully to others and paraphrasing their words

 Proposing solutions

 Agreeing on a solution

 Shake, hug, high five it out

The third component of supporting children socially and emotionally is through small group conversations. I meet with small groups to talk about specific conflict and have what we call "Circle of Friends" conversations. I also meet with children one on one to talk about conflict, word choice, friendship challenges and individual needs. When we notice behaviors are becoming
ad habits we often set up a behavior plan with individual children and their families. Behavior Plans are kept confidential and are not discussed with anyone besides the child, their family and admin
istration.
Here is a link to an article that talks more about supporting children with conflict: http://www.kidshelpline.com.au/grownups/news-research/hot-topics/dealing-with-conflict.php"
I'm proud to work with teachers like Caroline. She and others are helping students become better people.