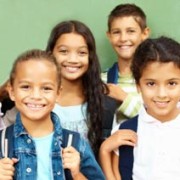 Let's start with the belief that social emotional growth is essential for young children.
Children and teachers deserve experiences that allow us to create community, follow our passions, solve problems, impact others, ask new questions and see ourselves in a new light. Connections give us purpose for caring about that with which we come in contact; we become more intentional about how we interact with the world when we have reason to care. Meaningful, purposeful connections are motivating and engaging, naturally engendering, and they extend the joy found in the learning process.
More and more, the traditional educational establishment is beginning to catch on.
Last week, I was in Boston presenting to the National Association of Independent Schools. My topic was the role that gratitude can play in school culture, and how the intentional teaching of gratitude in schools can make a huge difference to children's lives. I wasn't sure if this would be of interest to the more traditional schools that make up the bulk of NAIS membership. I was expecting 20 people to show up. More than 130 educational leaders from across the country came to my talk and exhibited a keen desire to learn about what we have been doing at Friends' School. We're still talking about it on Twitter.
This week a new study was published by Teachers College at Columbia University,which proves not only the human worth, but the financial worth, of teaching social emotional learning in schools. It's not only the right thing to do to help children become better people, it pays the bills too!
The study is nicely summed up (and a little more digestable) in this week's Education Week:
"For many years, growing numbers of scholars and educators have been exploring the ways in which emotions and relationships contribute to learning. Under the broad umbrella of "social and emotional learning," hundreds of researchers, teachers, administrators, and policymakers around the country have been trying to promote the social and emotional development of children and adults. At the same time, these pioneers are working to improve the culture of schools, the expectations of adults, the ways in which discipline is meted out, the mind-sets of learners, and the opportunities for young people's expression, service, and aspiration.
 Most people, when introduced to these kinds of social and emotional strategies, assume that they're "nice"—maybe even "important." But few think that developing healthy emotions and social connectivity is really a good return on investment."
 The new study's "findings are striking: Each of the socially and emotionally focused programs showed significant benefits that exceeded costs. In fact, the average among the six interventions showed that for every dollar invested, there is a return of more than 11 dollars.
 Social and emotional learning has a powerful combination of evidence and support: teachers on the front lines of learning, research on its power to promote improved test scores, policymakers frustrated with the toxic environment in education today, and now a strong economic case for change.
 The tide is finally shifting. The head and the heart are headed for a reunion in the classrooms of America. It can't come soon enough."
 At outstanding schools, great care is taken to teach and practice the skills needed to be a member of a community. This begins with knowing our own emotions and needs, and how to express them appropriately. It includes recognizing and responding to the needs and emotions of others through empathy and perspective-taking. Ultimately, having effective strategies for listening and speaking with one another develops an ability to problem-solve in all kinds of situations, often leading to inspired conclusions and stronger interpersonal relationships.
We need to prepare our students to be successful as they navigate their world – and we need to give them the tools to improve that world.
**Thank you to Shelby Pawlina, Co-Director of Friends' School's Teacher Preparation Program, for portions of this essay.